Parson Hills family
Mallory and Scottie Bordelon's family grew Aug. 25 when they adopted four children, one of whom was once one of Mallory Bordelon's students at Parson Hills Elementary School.
"We're just so thankful, because we just we love them so much," said Mallory Bordelon, who has been teaching first grade at Parson Hills for four years. "The decision really was not hard to make," she said of the adoption.
Jumbin, 11, Junior, 9, Josiah, 3, and Jeremiah, 14 months, all lived with the Bordelons as foster children for more than a year prior to the adoption, Bordelon said.
Junior was in Bordelon's initial first-grade class at Parson Hills, she said.
"Your first class always holds a special place in your heart," Bordelon said, noting she understood Junior had challenges at home when he was her student.
"You can always recognize their needs," she said. "You know if they need food, or you know if they need clothes or you know that their home situation isn't great."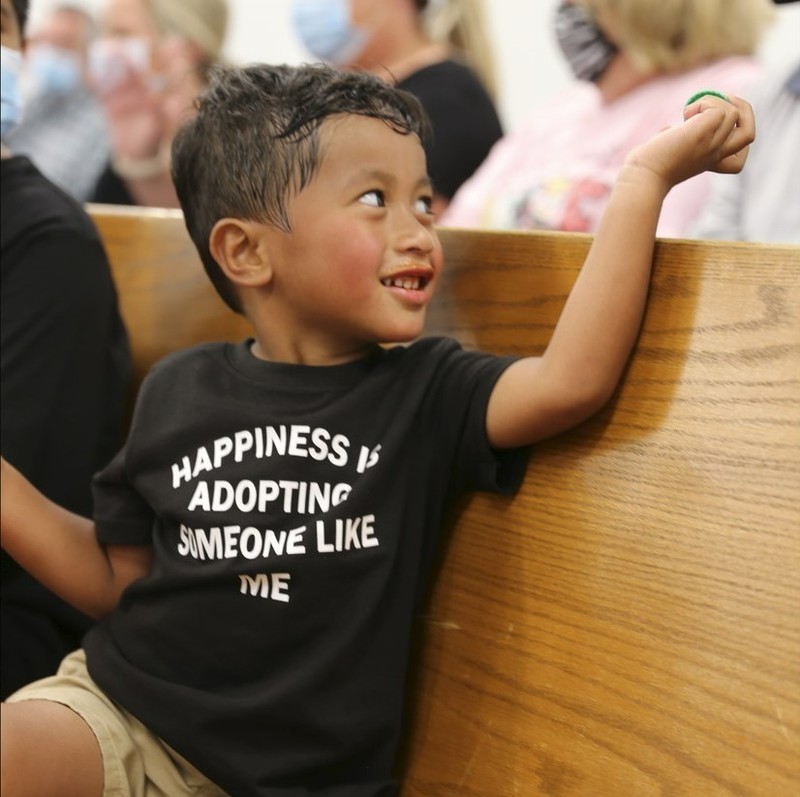 Recognizing the need

The Bordelons made the decision to become foster parents when they realized the level of need in Northwest Arkansas, Bordelon said.
There are currently about 4,500 children in foster care in Arkansas, said Brandy Shioyama, The CALL program coordinator. About 450 children need foster care in Northwest Arkansas on any given day. The CALL mobilizes Arkansas churches to serve children and youth placed in foster care, according to the nonprofit's website.
A total of 407,493 chil­dren were liv­ing in fos­ter care nationally in 2020, according to a May 2022 report by The Annie E. Casey Foundation, a nonprofit dedicated to serving children and families throughout the country.
"Adoptive homes are needed for sibling groups, older children and children with special or high needs," Shioyama said. "Sometimes foster kids do get adopted, but the primary goal is reunification."
When it became clear the children wouldn't be able to reunite with their parents, the couple made the decision to adopt all four boys, Bordelon said.
"Though this wasn't the goal originally, we just think that it was the Lord's plan all along," Bordelon said.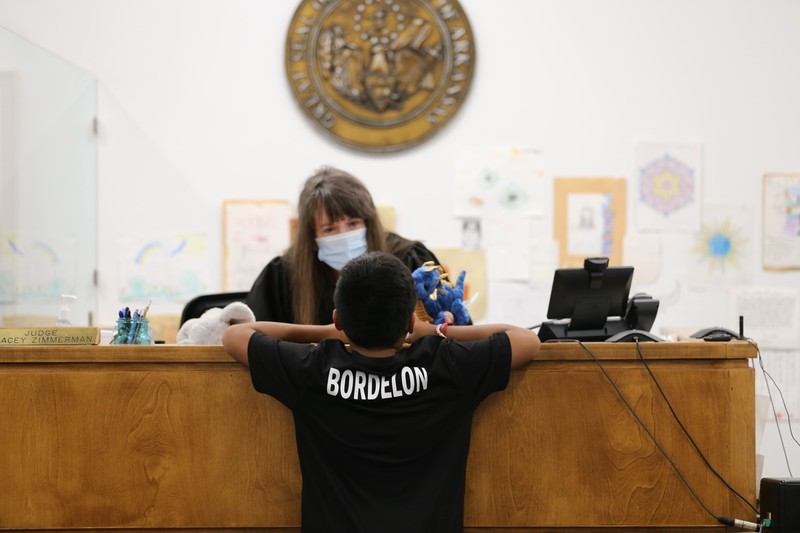 The big day
The adoption was finalized Aug. 25 in Judge Stacey Zimmerman's Fayetteville courtroom. The judge helped the children gain a better understanding of the experience by gifting each of them with a stuffed animal for them to adopt of their own.
About 20 of the Bordelon's friends, family and co-workers joined the family at the adoption to show their support.
"It's overwhelming," Scottie Bordelon said of the support the family has received.
He said he was grateful for the finality of the adoption as the family prepares to move from Springdale into a bigger home in Fayetteville to accommodate their larger family.
The adoption helps erase doubt for the children, Scottie Bordelon said, noting that previous moves have been stressful for the boys.
"Whenever they've moved before, it's been because something has been maybe going sideways in their lives," he said. "We're moving, but it's for the better."
Space was always a need for the boys, who are looking forward to moving into their new home, Scottie Bordelon said.
"We need room to play," Jumbin said, adding he's excited to have a new backyard to play in.
Mallory Bordelon and Lynette Niznik, Southwest Junior High School teacher, each received a $10,000 home makeover from Sam's Furniture Aug. 12 at the annual Springdale Chamber Teacher Appreciation Event. The teachers were nominated to receive the gifts by district staff and families.
The couple is using the gift to furnish their new home, Mallory Bordelon said.
"I just was in disbelief," she said. "What a blessing. It just happened at the perfect time."
A growing family
Mallory Bordelon said the boys have experienced a lot of exciting changes over the last year as well, to include attending church camp and getting introduced to organized sports like baseball and soccer.
"I like baseball," Junior said. "I like catching and I'm good at throwing and I'm good at hitting it back."
The boys also attend church with their aunt to remain connected to their Marshallese heritage, Mallory Bordelon said.
"We want them to be immersed in that Marshallese language," she said, adding the boys do speak some Marshallese.
Junior said it's "super cool" his mother is a teacher at Parson Hills.
"Parson Hills has really become a family to me," Mallory Bordelon said. "They've been with us truly every step of the way."
She said she and Scottie are looking forward to a future as parents to the four boys, and they don't have plans to grow their family and further.
"Unless the Lord has a bigger plan, we will not have any more children," Mallory Bordelon said. "We're just totally full."
She said the couple hopes their home can be a place where all four children can thrive.
"They never had a safe place to come home to — somewhere where they could just relax and enjoy their lives," Mallory Bordelon said. "It's just been really great to see them flourish."