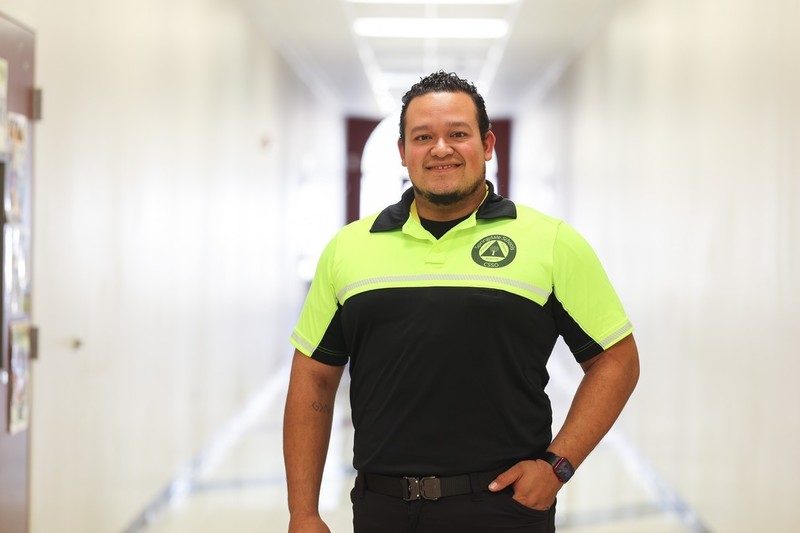 Former Springdale Schools student Dani Calderon has found his way back to the school district by serving as a CSSO at George Elementary School.

"Springdale is home," Calderon said. "It's where I have grown up and experienced life."
Calderon, 29, now lives in Lowell with his wife of four years, Ashlyn Calderon, but was once a student at Walker Elementary School, Helen Tyson Middle School, Southwest Junior High School and Har-Ber High School. He graduated in 2012 from Har-Ber.
"I think my favorite memories are with the band at football games, performing and getting to play at all the games." he said of his time as a Wildcat.
Calderon wants to bring a level of safety to George Elementary so staff and students can feel comfortable at school.
"Security, for me, is an instinct," he said. "I also enjoy the fun moments with students and getting to know the teachers. So, the combination is perfect for me."
Calderon plays volleyball, Spikeball and Ultimate Frisbee in his free time.
"Even though I hate running, I love going on hikes and enjoying time with my wife, friends and family,"' he said.
Calderon has a history of service in youth ministry.
"I volunteered as a youth leader for the longest time," he said. "I enjoy getting to help older teens figure out what they want to do in life and how to get there."
He likewise brings his six years of experience as an Army National Guardsmen to the position.
Serving as the George Elementary CSSO is the ideal job for Calderon.
"I love students. I'm just fun-spirited and young at heart," he said. "I enjoy getting to see them grow and build their lives. If I can be an influence or support, I want to be there."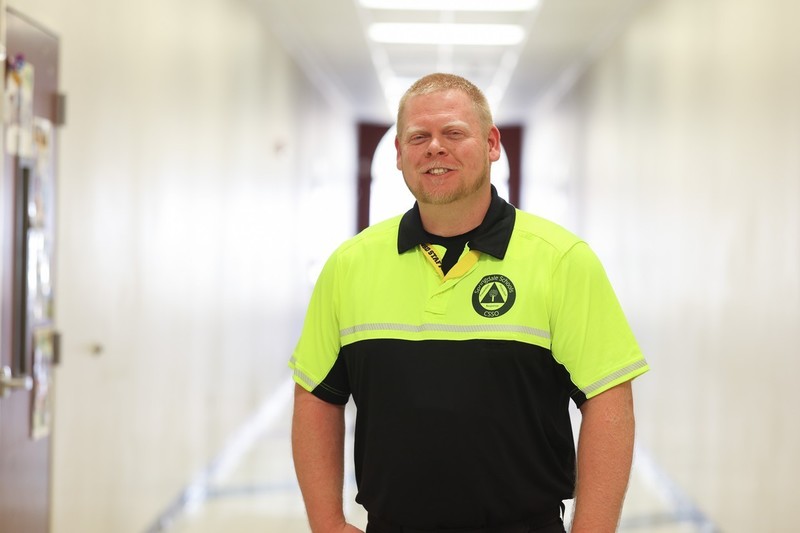 Josh Imler brings experience working with youth to his position as a CSSO at Parson Hills Elementary School.

Imler and his wife, Megan, have more than 13 years of experience fostering special needs children and live in Hindsville.
Josh and Megan have been married for 16 years and have five children, Natalie, 15, Alex, 13, Hunter, 11, Alivia 8, and, Jayce, 4.
"I have helped several children over the years that come from rough situations and have lots of mental and physical trauma," he said. "I can help kids in the schools that are struggling with mental or physical issues."
Imler, 36, works to serve students and staff in whatever situation that may arise.
"I hope to be able to help children that might be struggling and just need a positive influence," he said. "I'm also glad to be a part of the Springdale School District as a CSSO."
Imler attended Springdale Public Schools from kindergarten through 12th grade.
When he isn't working, he may be found outdoors hunting, fishing and spending time with his family.
Imler wants to keep children at Parson Hills safe so they can focus on learning.
"A friend that's an SRO told me, 'There is no better job then looking after today's youth,' and I totally agree," he said. "I hope to bring a welcoming presence to the children and teachers so they know they can come to me for help anytime."